So after attending the Information Is Beautiful 2013 Awards the other week, it got me thinking about design awards and competitions. I've been moved back home for just over a month now and when I first came back I found a letter which my mum had put in my room: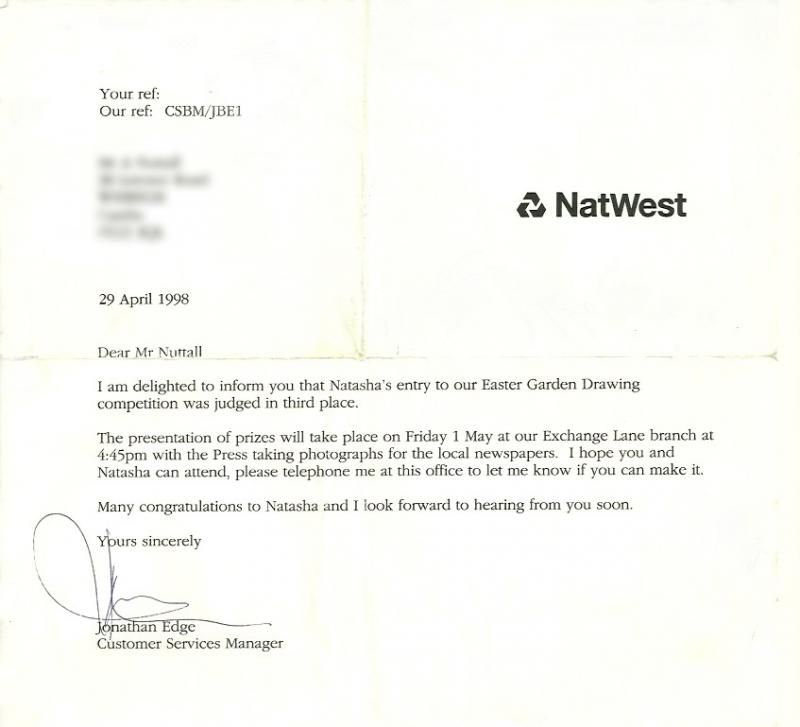 I'm sure you can read it, but I'll just explain anyway. 15 years ago in April 1998, I was an 8 year old who loved drawing. I remember always being told that I was really good at drawing (well for a child anyway) which is quite weird now because I really struggle to draw (as you will know if you've read my sketchbook posts). My Dad used to enter me into drawing competitions, including one for Natwest bank. I came 3rd in my age group and won £5, which may seem rubbish now but was quite a lot to a kid 15 years ago! So, this was technically my first 'design' competition win! I was in the local paper and everything(obviously a slow week for news):
Awww what a cutie I was! 8 year old me was even on trend in tartan, unlike 23 year old me:
Looking at it now, the drawing isn't amazing, but I realise there are different standards for different ages and I'm a tough critic! I thought I would share it with you guys as it just seemed appropriate with the letter re-appearing in my room and the IIB Awards. Did you enter drawing competitions when you was younger? Do you still enter now? Ha
Fingers crossed that this won't be the last design competition I win, as I'm going to be choosing a D&AD New Blood Awards 2014 brief in the next couple of days… any advice or personal favourites?