So I'll admit, I've been falling a bit behind on posts recently – I went to see Paper Cut: The Exhibition almost a month ago! Ooops! But anyway, I still wanted to share this with you and you'll see why: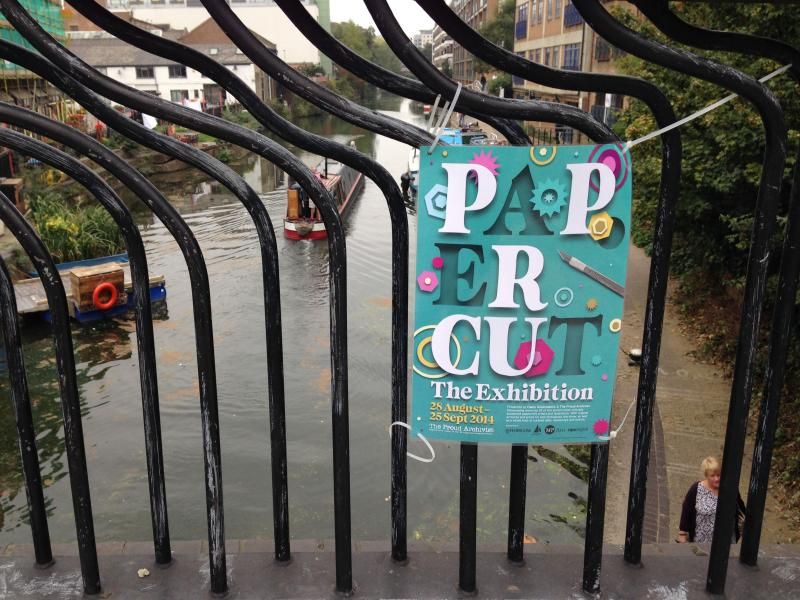 So the first thing I see when I walk in the exhibition…
…That's right, it's a giant pencil. I mean at 5ft3 I'm quite small, but it's still a big pencil made from paper! And an oversized typewriter too, both by Chrissie Macdonald.
Then I turned to see a mini biscuit grabbing machine…
… so sweet (pun intended)! If only these existed in real life Seasides – I'd much rather grab biscuits than awful teddy bears. All made from paper, beautifully crafted and probably half the calories of a real bourbon! ha
With 25 of the best paper craft artists from around the world, the walls were bursting with a rainbow of colour and immense attention to detail. There was so much to see that it was actually quite hard knowing where to begin…
I spotted some names that I have have admired for so long: masterpieces by Yulia Brodskaya and Bianca Chang, delicate work by Ciara Phelan…
… 'Mr. Papercut' a.k.a Rob Ryan (that is Jack's 'OMG it's a Rob Ryan' face ha)…
… and Owen Gildersleeve – beautifully simple and complex at the same time.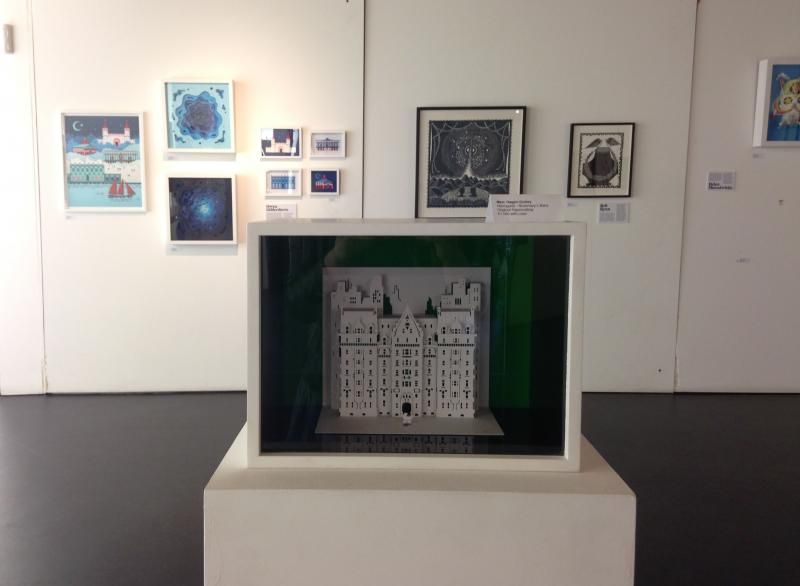 We also discovered some new names: Shotopop…
…and Lobulo, whose Mr T piece fascinated Jack… it was like looking in a mirror ha But seriously – you need to see the detail in those chains for yourself!
And who'd have thought there would be paper embellished with pearls!?
We resisted buying anything, but don't worry, there are plans to purchase a Rob Ryan piece when we get a place together.
What a brilliant exhibition – I enjoyed it so much! After drooling over so much paper crafted work online for about 5 years it was amazing to see the details close up – I could smell the paper and see the blood stains (not really, I would have fainted at the tiniest hint of blood! ha). I spent many hours trying to join the paper craft crew and failed – my scalpel skills are terrible and I like having feeling in my fingers. Working with paper is hard work and all of the artists deserve a medal because you have to have so much patience and a steady hand made of steel – just one wrong cut and it's back to square one.
So are you a green-eyed paper monster now after seeing all that lot? Wish you'd been able to see it for yourself? Well, I have some great news! The exhibition has been extended due to popular demand! So it's now open until 2nd November, you should definitely get down to The Proud Archivist (a short walk from Haggerston overground station) and check it out!
If you have been/go to the exhibition let me know what you think – can you choose a favourite piece!?